Even though, my Wordless Wednesday was on Thursday, I won't let my Thursday 5 be on Friday. :)
I'll just jump right in. Here we go:
You know the drill. Link up here --->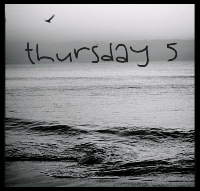 Here are the words:
I am
excited
that it's almost the weekend. And that I'll be making my traditional valentines day brownies for the Monkey this weekend. I have some new tasty ideas I want to try out!
Our new couch is just
delightful
! It's so soft and comfy. Now if we could just stay off of it. :) We need to be more productive this weekend. Lots of things to get done.
I realized today that I am very
thankful
for what a wonderful relationship Monkey and I have. From experience we've both learned how NOT to fight. We communicate very very well, and it's what makes everything so easy.
I ordered a
super
cute custom pillow from Etsy. It's freaking adorable and I had the lady make it with the colors that I want in our living room. (Mostly to prove to monkey that those colors do in fact "go" together.)
Tuesday night I went to a fun even with the people from my kickboxing gym. It was a lot of fun and I am very
appreciative
that they encouraged me to go. The longer I am there, I am finding that it is a very good place for me to be right now. Everyone there is like one big family and truly cares about you as a person. I'm so glad I found these new friends.
Like this one, but with different fabrics to match my couch and color scheme.
The adorable etsy shop is here.