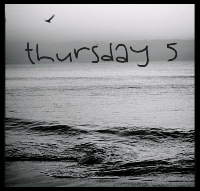 Thursday, yeah yeah yeah... it's thursday yeah yeah yeah!
Ok, well the sun is shining anyway which makes it good day. So then here we go wid da Tursday fife.
Irresistible
Positive
Successful
Vibrant
Glorious
Lately, every sugary tasty yummy thing has seemed

irresistible

! And is shows... right on my mid-section! But, I am

positive

that I will be able to

successfully

burn it [mostly] back off before the Monkey gets home.
My porch is looking more

vibrant

lately with the addition of a larger potted plant. (Though, sadly it replaced the one that died unexpectedly of a fungus.)
The sun is out and it's

glorious

!!!!!! Now that I'm over the whole wishing Monkey was here to do stuff with me in the sunny weather thing, nothing makes me happier right now than beautiful awesome sunshine!!!
P.S. - If you haven't already, pretty pretty please go check out my new meme on my previous post
here.
It's really easy, join in, wont you?